Free Express Shipping on Orders above $150.00USD*
Embracing the Past, Celebrating the Future:  Rose Gold Bridal Jewelry Trends
In its traditional formulation, an Indian wedding is not merely two people getting married but a grand event that embodies cultural customs and splendid dresses. Among these features, one of them is bridal jewelry. The adoption of classic Indian bridal jewelry in conjunction with modernity, as seen in the popular rose gold style, has been trending at various weddings across the globe in recent times. Join us in exploring a splendid realm where luxurious rose gold bridal jewelry comes together with a lavish legacy of Indian bridal jewelry sets from IndiaTrend.
The Allure of Rose Gold Bridal Jewelry
We know that fashion needs to carry the flavor of culture with a dash of modernity. Therefore, our collection of rose gold bridal jewelry caters to this desire among brides seeking to marry an outstanding blend of antique charms and modern beauty. The rose-gold color evokes warmth and sophistication that complement brides; hence, it is just an ideal metal color for modern weddings.
Shopping for Rose Gold Bridal Jewelry Online
With IndiaTrend, finding the perfect rose gold bridal jewelry for your Indian wedding is simple. The website has been designed for easy navigation and shopping to attain what you have sought and desired for jewelry. Here's how to navigate our online store:
Explore Our Extensive Collection
IndiaTrend has produced Indian wedding jewelry that has embraced rose gold and thus provides an array of jewelry sets that include earrings, necklaces, bangles, and rings. We produce each piece with great care to maintain the highest standards of quality and design.
Customization Options
We know that no two brides are alike, and their jewelry must express their uniqueness. You can alter the precious stones, design, and dimensions so they are perfect with your apparel,according to your fashion statement or choice of style; this is only possible at India Trend.
Expert Assistance
Shopping with us will see our customer support team working behind you to help throughout your entire shopping experience. Our contact information is provided here, so do not hesitate to call or ask for help.
 We know that Indian bridal jewelry has considerable cultural significance and is usually passed on to future generations. In this case, we appreciate that they are part of our tradition; however, we are open-minded to introducing a new approach. 
Our Rose Gold Bridal Collection
With this in mind, we have put together our collection of rose gold bridal jewelry, which symbolizes our dedication, representing a perfect combination of old traditions and new trends.
Rose Gold Bangles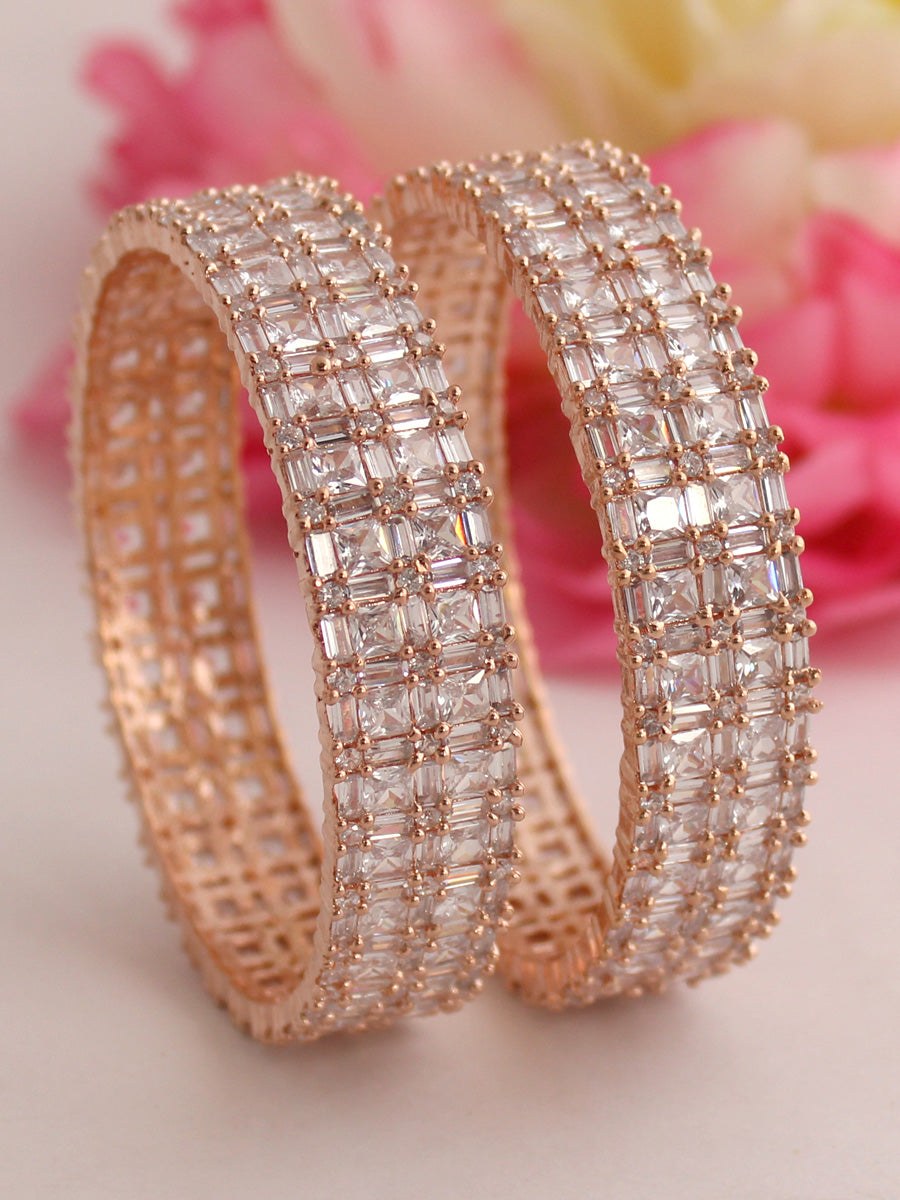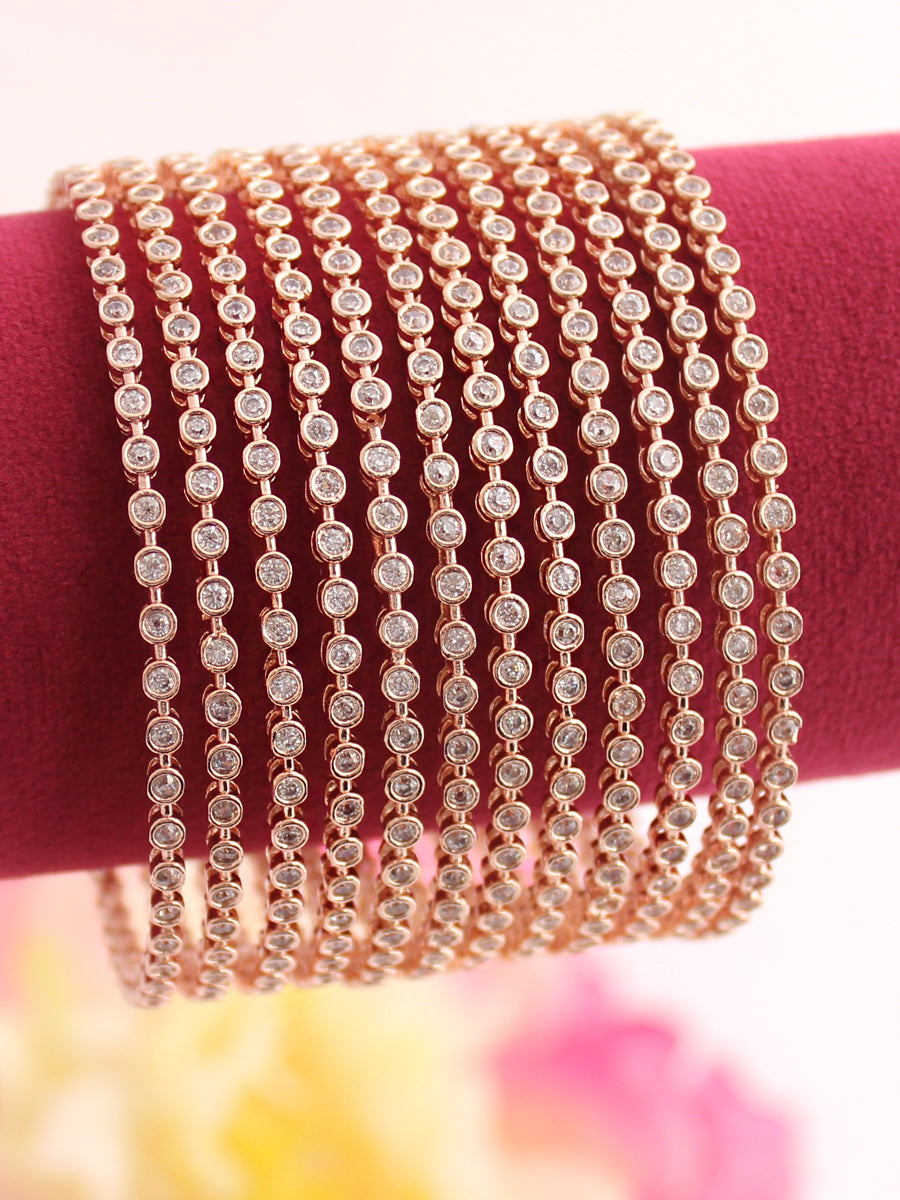 Our range of rose-gold bangles speaks eloquently to the delicate equilibrium between tradition and contemporary grace. These bangles are exquisite in terms of their complex design, thus representing the timeless charm of Indian jewelry and effortlessly integrating the glamor of new rose gold.
Maang Tikka and Nose Ring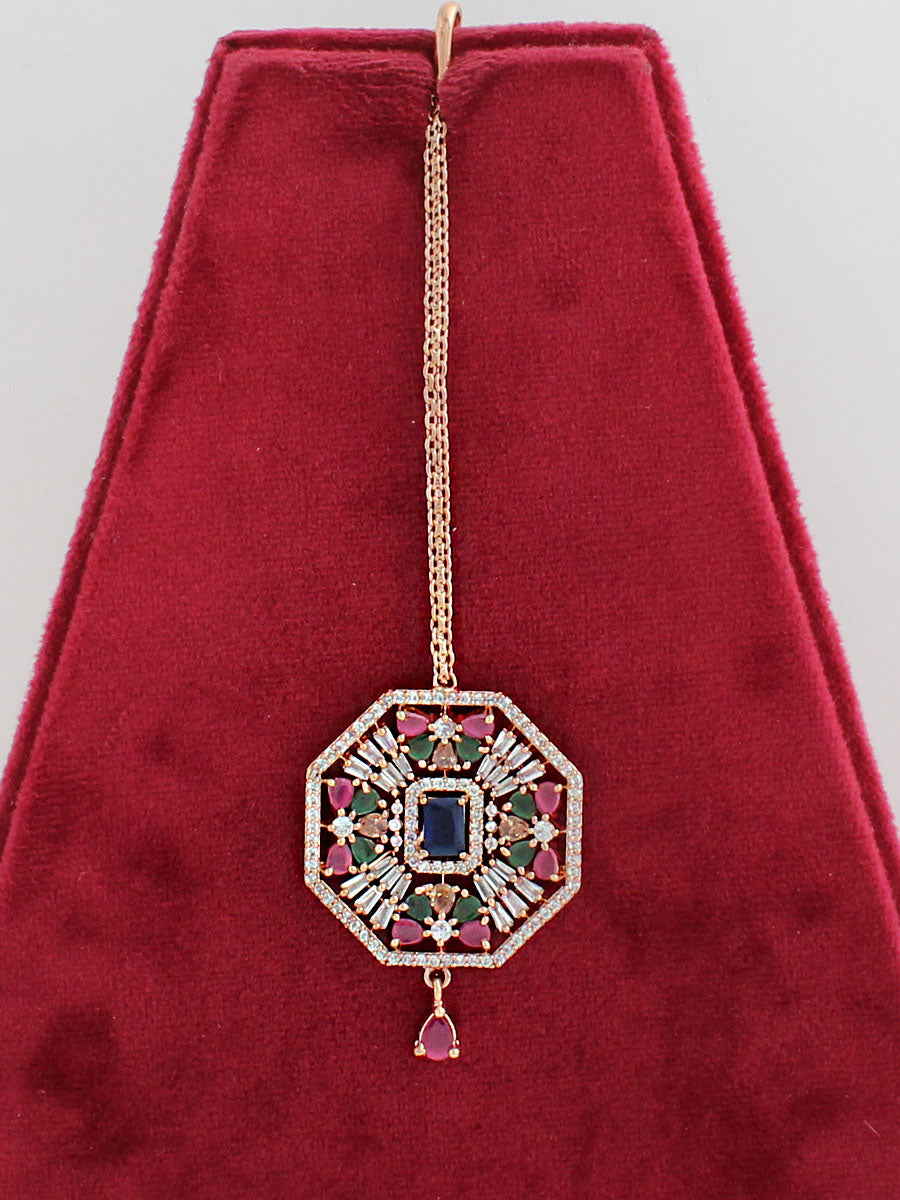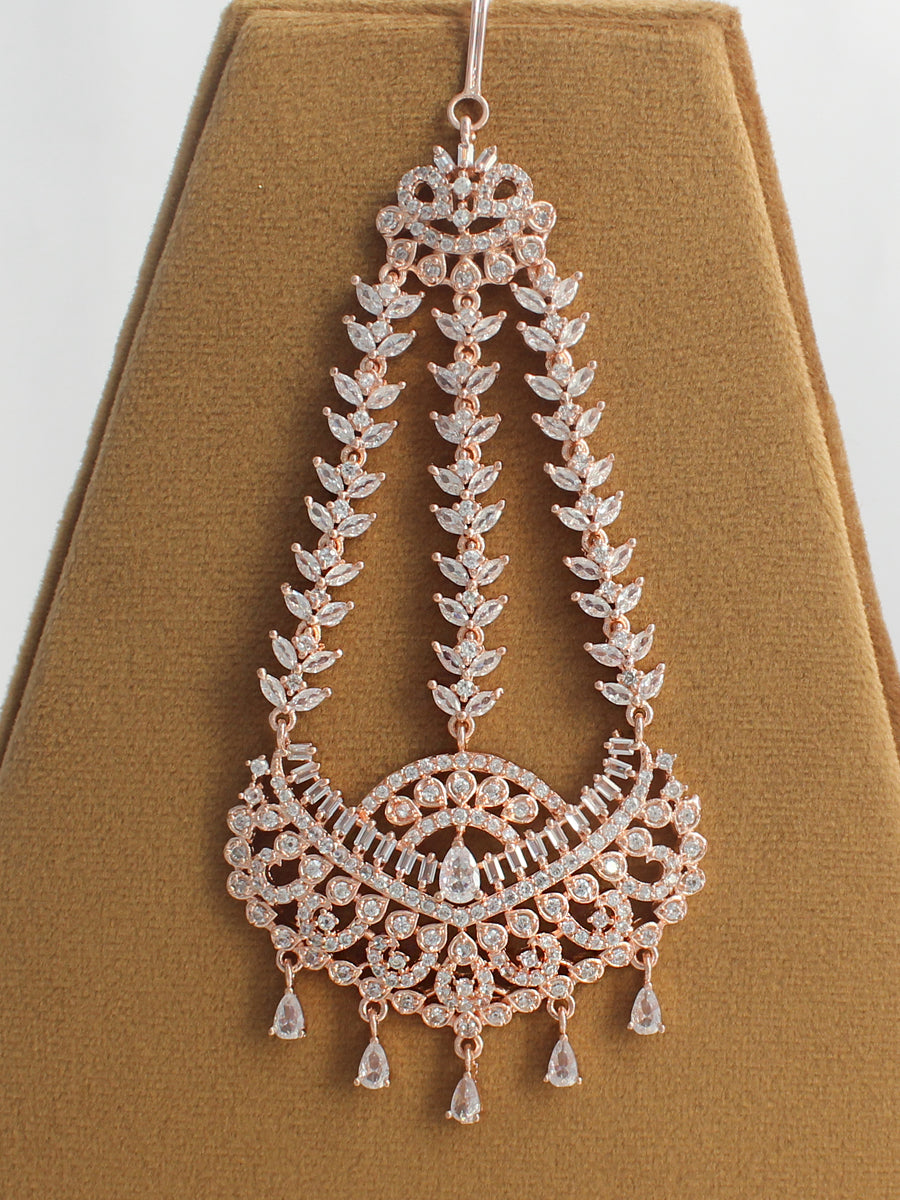 Our enchanting range of rose gold maang tikka and nose rings has successfully encapsulated the essence of the two cultures together. This collection of bridal jewels pays tribute to the richness of traditional craftsmanship in India while embracing the spirit of modernity through the use of rose gold—a reflection of how Indian wedding jewelry has evolved.
Statement Necklaces
India Trend's rose gold statement necklaces are works of art that represent an amalgamation of tradition and chic in a single piece. These ornaments are adorned with Kundan or Polki work and are perfect for enhancing your bridal look, so that they may radiate timeless beauty yet carry an essence of modern-day confidence.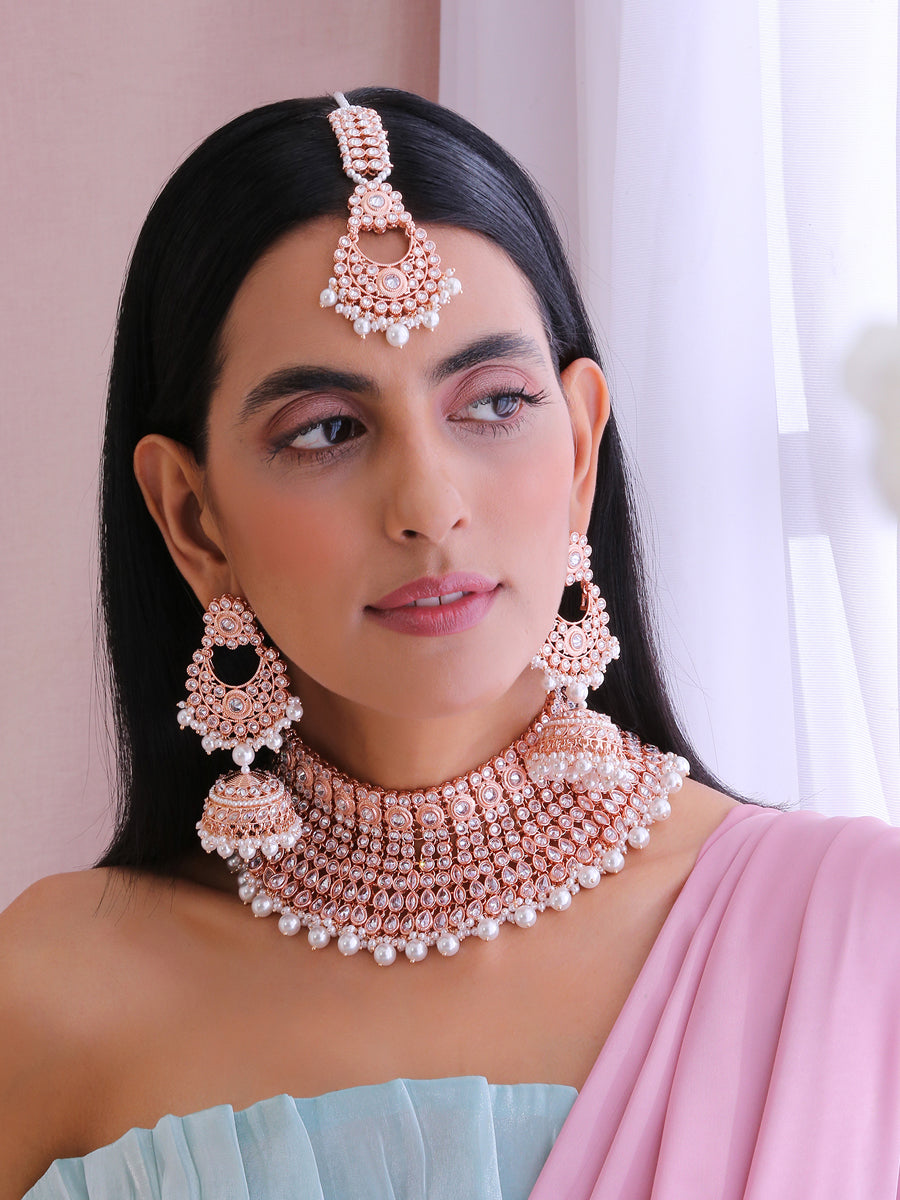 Earrings and Hathphool
For an impeccable fusion of our trends, please add some of our rose gold earrings that will bring out the Indian style in your get-up as part of our commitment to IndiaTrend elegance. Traditional elements are blended with current designs, giving an added touch of glory to your bridal wear.
The development of style and personality is an occasion for celebration. The rose gold bridal jewelry collection is a sign of our commitment to cherishing the heritage while accepting the charm of modernity, ensuring that the allure of bridal dress carries through the past into the future.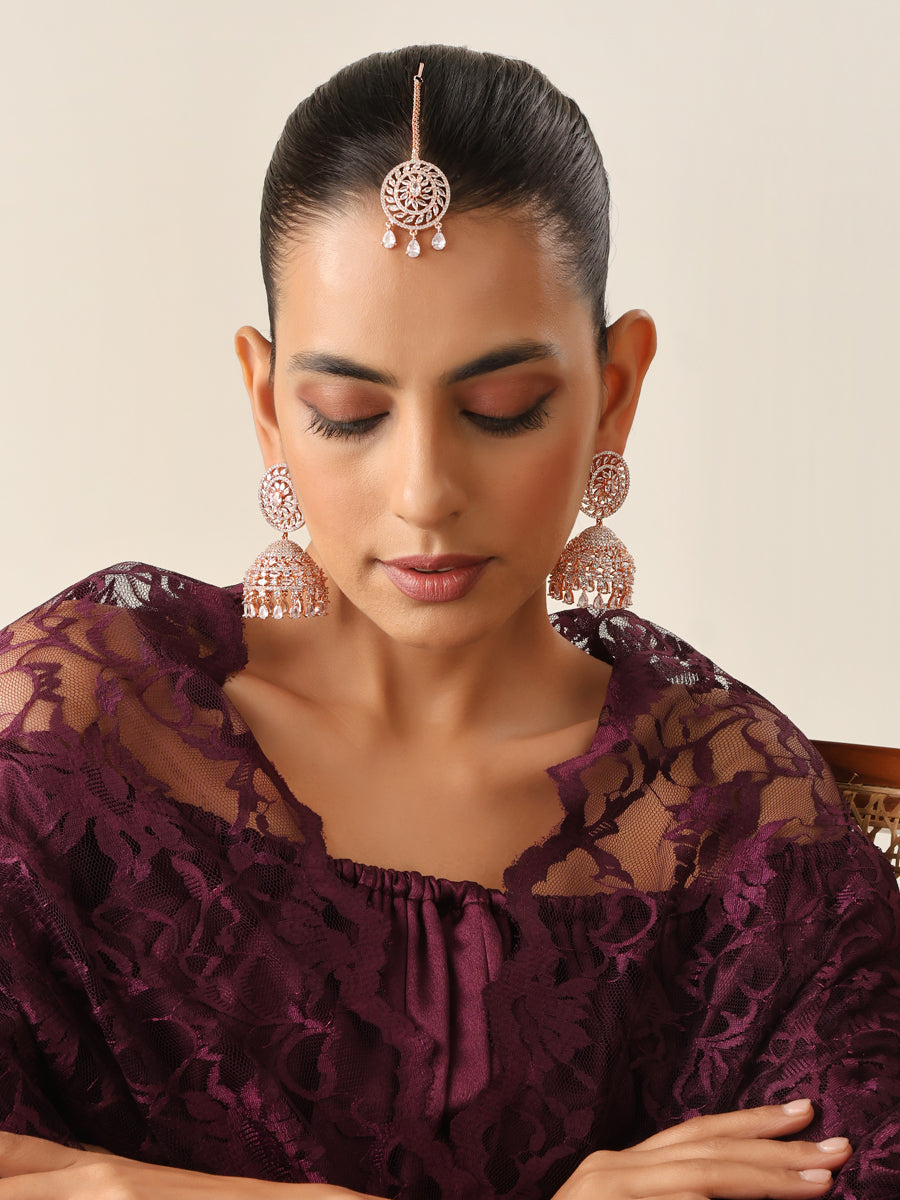 The Best of the Best
In summary, wedding is not an everyday event; it's the day that signifies something special and therefore merits all the care possible. It is not only a choice but also the expression of your style, an homage to the eternal traditions and rituals of Indian wedding ceremonies,and evidence of your respect for the mix of tradition and modernity in the marriage.
We have a special collection of rose gold bridal jewelry just for you, giving you more options that match your imagination. Every element is not only an accessory but also enriches your bridal look, capturing the spirit of love and traditions that make up your unique history.
Visit  IndiaTrend as you set out for your lovely and unforgettable wedding day. We are part of your story. Enjoy a perfect bridal charm through our exclusive rose gold bridal accessory sets. To us, these pieces are not merely ornaments but future heirlooms that signify the depth and strength of your union.
Delve into our catalog nowadays, and you will discover more than just jewelry; what you will find is a connection to tradition, a celebration of modernity, and the epitome of your style. So, let IndiaTrend assist you in making every aspect or moment of your wedding day radiate, much like your love!Your special day deserves nothing less as you set off . We wish you a magnificent Indian wedding adventure.