Free Express Shipping on Orders above $150.00USD*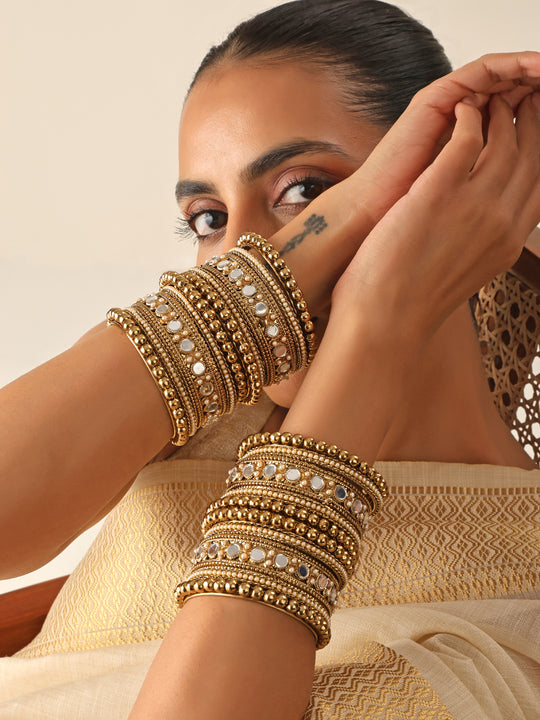 Our Indian culture and traditions have some very deep-rooted customs with interesting symbolism. Ancient rituals have, since time immemorial, required women to be dressed up beautifully before any ceremony or family event. They call it "16 shringar", which holds a lot of eminence.
"16 shringar" means 16 embellishments that the lady should mandatorily use in adorning herself to radiate fertility and beauty. One such article of ornamentation is the bangles from India or "choodi." Typically worn on the wrist, the bangles hold great significance in the life of Indian women.
Post her wedding, the new bride wears a fascinating set of bangles - the "Chura" (mostly red to depict love and good luck). She continues the tradition of wearing bangles (after removing the chura) and replacing them with something (typically gold) for a lifetime. With the profound depth of the essence of the bangles comes the fact that this piece of jewelry has become funky and a fashion statement, which makes it highly desired and sought after.
Bangles have become trendsetters in their own right, and bangles from India are loved by people universally. We at
IndiaTrend
will tell you why:
"Meenakari" work uses colored enamel to design intricate patterns in gold, kundan, polki, etc. bangles. Originally from Persia, this work finds its roots amidst the kings of Rajasthan, and hence, the minute detailing with various color hues gives the bangles a timeless appearance.
Various palaces and forts have used meenakari motifs to decorate their walls and ceilings, and this very tradition has been carefully adapted to jewelry as well, giving the same royal feel. In earlier times, only bright colors, such as red, green, orange, etc., would be prominent everywhere, but now, we can see the use of pastel and nude shades inching into the market, adding a burst of freshness.

Polki divinity: 
Polki is another name for uncut diamonds, and shaping them in various designs gives us a beautiful parure. Talk of regality and polki is the right choice. Mostly, gold is the base while setting these gems. However, its fusion with pearls or meenakari work gives the polki bangles a surreal look. Kada bracelets using these diamonds add the much -required glimmer and charm to your wrists for the intended function when you wear them with accompanying fancy bangles (glass or metal).
Kundan camaraderie: 
Some things don't age with time. They tend to run through centuries as if time has ceased for them. Kundan is one such gemstone. We can retrace its footsteps to the royal courts of Rajasthan. Unlike polki, gold foils are the base of these stones. These offer multitudinous options, lending versatility to your jewelry collection. 
Think of any gem - amalgamating them with Kundan gives you an extensive assemblage of bespoke jewelry pieces. Alia Bhatt's wedding jewelry created the right ripples because of the mesmerizing use of kundan in her kadas. 
While Polki and Kundan often arouse confusion because of the similarity in their looks, they are different because of the stones used to fabricate them. Kundan bangles are indispensable. Your jewelry display is incomplete without these.
Dazzling diamonds:
Did you ever fantasize about wearing Kiara Advani's diamond-emerald bangles from her wedding? Not only were they breath-taking, but their glint had the caliber to make one's heart skip a beat. 
Diamond bangles grab eyeballs, but their distinctiveness lies in the divine sparkle that they flash. Gold, rubies, white gold, sapphires, etc., are some combinations that give these dazzling pieces an unparalleled malleability, which you could use in various ways on separate occasions. Standalone bracelets or slim bangles stackers - use them anyway and enchant onlookers! 
Glistening gold:
Investment deals for a bright future are a must. In India, women love putting money into yellow metal because they have a fetish. Gold holds a lot of significance in the lives of Indians. The metal possesses healing powers, and it symbolizes purity and prosperity. Our traditions require married women to wear gold bangles daily in their routine. 
It is the most ubiquitous metal and finds its way into nearly every piece of bijou under your possession. Gold is the base metal for a variety of gemstones. It is highly malleable, making it easy to mold in different sizes and shapes. The designs and patterns in gold bangles are boundless. These are, therefore, 'must-haves' in your jewelry list.  
Ornate oxidized beauties: 

Another metal that is fast catching up is the oxidized bangles/bracelets. The minute engravings on these wristlets give them a rustic look. The greyish-black tinge makes them beautiful and unique. Wear them on your garba outfit or pair them with jeans and a top - you are bound to style it up with these on your carpals. 

Trending Designs this Season
Since we have briefed you about the types of gems, metals, and stones commonly used in crafting bangles, how about assimilating more information about trending designs under the segment?
 
Blissful Bracelets:
Typically speaking, bracelets are hoops or bands that beautify your wrists. These are like the single-man army. Wear one, and you are at the ready. Designers have given contemporary, ultra -modern, or even traditional twists, making them an essential part of your jewelry collection. Open bangles, cuff patterns, or multi-layered wristlets, bracelets with any variation are a big hit!
Gorgeous Gajras:
Conventionally, gajras are fresh flower hair accessories that adorn the bun or 'juda.' Their beautiful adaptation in the jewelry world is bangles with the same name. Interestingly, even the design of the gajra draws inspiration from its original counterpart. 
Gajras, with their ethnic touch, add a stately and royal feel to the wrists. Pearls, kundans, gold - you name it. These bespoke pieces can house any of the gems and look stunning!
 Beauteous Bangadi:

 
Another prominent and elegant variation in the category is Rajasthani Bangadi bangles. They possess a unique design that has small protrusions from the middle. These have polkis or pearls on them. You can wear bangadis with vibrant metal or colorful bangles to complete the look of your bangle set. 
Exuberant Motif bangles: 
Closer to our Indian roots, these bangles are a riot of colors and are very pretty. The paintings on these wooden/lac bases are a beautiful rendition of Indian kitsch. Wear them on your wrist, and you are sure to grab eyeballs. 

Conclusion:
As much as bangles are an accouterment in jewelry collections, we cannot undermine their significance. Their splendor and beauty are unparalleled, and so are the values associated with them. These charming pieces uplift your look in subtle ways.  
The beauty of this jewelry lies in the fact that every Indian state has a different symbolism where the bangles are highly revered, and they deeply permeate our traditions. People of Punjab consider their "red chooda" full of promise, whereas, for Maharashtrians, green bangles symbolize fertility and purity. In the South, "gold bangles" are a harbinger of good luck.
At IndiaTrend, we present an exclusive range of Kundan, gold, polki, etc. bangles that delve into the Indianess and share a glimpse of the rich cultures and varied customs that imbue the lives of every Indian. Our exotic and expansive range of bracelets and bangles will leave you yearning for more. Drop into our website, and you will surely want to grab some of our exclusive pieces for the upcoming festive season!