Free Express Shipping on Orders above $150.00USD*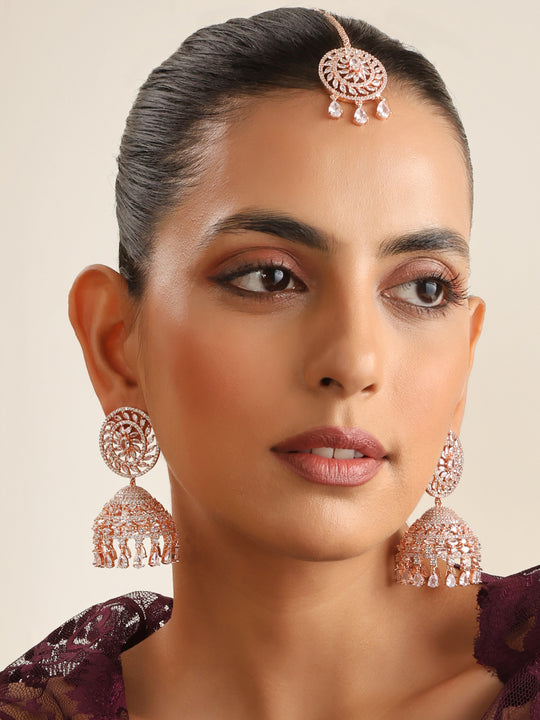 Are you a fan of Jhumki earrings? Then, let us assist you in discovering your new favourite among the countless options available. Jhumka or Jhumki earrings have been used in India from the beginning of time. This ancient jewellery has long been used as temple adornment in bridal earrings online in our nation. This traditional style is still one of the most preferred choices for brides during traditional weddings in South India, particularly in Kerala.
Jhumkis are an essential part of every
Indian woman's jewellery collection
. Jhumki earrings are a beautiful jewellery piece that will always stay in style. The name 'Jhumka' generally corresponds to 'bell' or 'bowl,' which is appropriate given the bell form of these lovely earrings.
Aside from their unusual form, these earrings are appreciated for the characteristic sound they create of a jingle. Jhumka earrings are shaped like bells and drop out of the ear lobes, giving them a beautiful and royal appearance. They are composed of a variety of substances, but all of the constructions are about the same form. Jhumkas also contain structures that are not bell-shaped, and these pieces are created from an array of materials.
These earrings are either the same length or somewhat longer than the earrings themselves. Let us now look at the many varieties of jhumkas.
Jhumkas Made of conventional gold: A Timeless Work of Art Traditionally, many types of antique gold jhumkis earrings are used with traditional attire such as sarees or dresses and ethnic clothing. 
Jhumkas from Kashmir: For Royalty With its elegant appearance, Kashmiri jhumkas established the trend. They look beautiful and trendy with long diamond chains linked to the jhumkas. You may wear it in two ways: tuck the pearl chains behind your ears or tuck them into your hair. Whatever you select, these current jhumka patterns will take your style to the next level.
Ear-Cuff Jhumkas: Make a Fashion Statement When paired with jhumkas, ear-cuffs/ ear chains that wrap the whole ear with jewellery appear stylish and pristine. These jhumkis earrings, available in a variety of styles and trends, with or without decorations, scream statement, jewellery, and power. With this amazing piece of statement jewellery, you'll have all eyes on you. 
Jhumka Meenakari: The Meenakari jhumkas can only be described as 'beautiful'! Meenakari jhumkas include a classic pattern called 'Meenakari' and have been created with brilliant pop-up hues. Traditional carving motifs, colourful enamel work, and gorgeous stones, Kundan, gemstones, or beads are used to create these earrings. Meenakari jhumkas, known for its eye-catching hues and traditional appearance, are an excellent alternative for enhancing your traditional Indian cultural wear. Because these earrings are so eye-catching, keep the rest of your accessories simple.
Jhumkas with Chandeliers: A chandelier, also known as jhaalar jhumkas, has a tiered style that is both feminine and appealing. These jhumkas' frill-like appearance makes them an excellent choice for an event outfit. Chandelier jhumkas come in a variety of styles, including massive Kundan design jhumkas with pearls, simple silver, gold, or metal versions. Wear these jhumkas as a festive or bridal jhumkis, or a special event decoration since they produce a really striking and voluminous impression.
Jhumkas Chaand Bali: Because these jhumkas are moon-shaped, they are known as chaand bali earrings. These are well-known for their flexibility and may be worn with any outfit.
Suryakanthi Jhumkas: The studs on these jhumkis earrings are large and spherical, and their designs are typically influenced by the sun, thus the name Suryakanthi. The jhumkas are shown below. Large golden suryakanthi jhumkas are ideal for festivities and weddings, whilst tiny and metal varieties are more appropriate for everyday use.
Jhaalar Jhumkas: There are several variations of jhaalar or chandelier jhumkis earrings on the market. They produce a frill-like impression beneath the ear. The jhaalar can be adorned with gems or even tiny additions of the same jhumka. Metallic chains can also be used to make them. The Jhaalar can be of any shape or size, but they always produce a profuse look and hang below the ear.
Accessorise your style with collectible treasures from
Indiatrend
. Integrate custom jewellery into your wedding and include our stunning party jewellery into your trousseau treasure. Ornaments that are stylish and made for festivals, or bags that beautify your arms and complement your outfit, add a sense of class and grace to your festive wear. Buy jewellery online from
IndiaTrend
to bring out your inner fashionista.