Free Express Shipping on Orders above $150.00USD*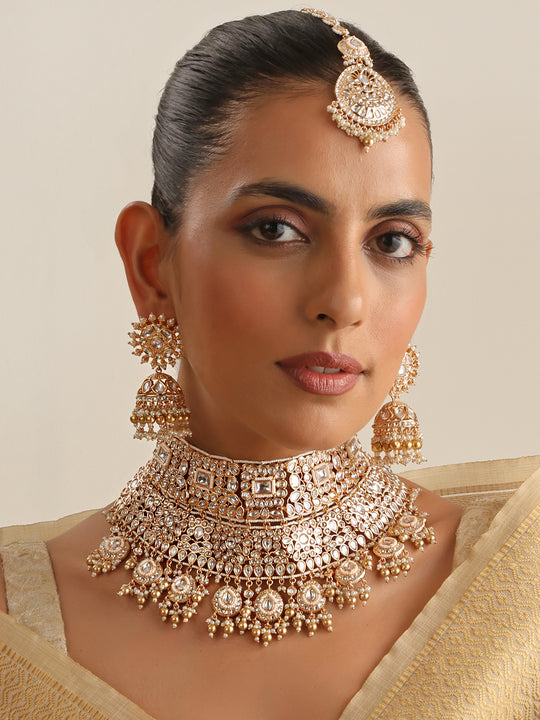 Weddings are a beautiful and joyous celebration that recognize the deep love and lifelong commitment shared between two individuals. Jewelry adds elegance and enhances the bride's beauty, making it a perfect complement to any wedding. The right piece of jewelry can elevate the bride's look and make her feel even more special on her big day. 
When choosing from a variety of options, you have a plethora of choices - there are simple and humble options, as well as daring and lavish options for you to choose from. In Indian Culture, jewelry holds immense cultural significance. It reflects traditions, rituals, as well as a rich heritage, and it also symbolizes the eternal bond between the couple. 
Popular bridal jewelry for weddings keeps in mind Indian tradition and reflects true Indian culture. It is believed to bring the couple lots of prosperity and blessings. Here is the essential bridal jewelry for every Indian bride-to-be.
Rani Haar
Rani Haar is a traditional style of necklace known for its long length. This bridal jewelry for weddings consists of pearls, gemstones, and gold beads. It gives the bride's attire a dash of opulence and grace. The necklace grabs attention and gives a royal look. The necklace also features precious gemstones, kundan work, or intricate filigree detailing. So if you're looking to wear a splendid piece of jewelry to enhance your collection, or if you're a bride-to-be, the Rani Haar is a valuable option to consider. 
Nath
Nath, also known as a nose ring, is a prominent item in bridal jewelry for weddings. It is usually attached to a chain or string secured in the bride's hair. You can discover naths that can be put onto the nostril from either side, so you don't need your nose pierced. It can be a single hoop or can also be intricately designed. It is seen as a representation of marital status, signifying that the wearer is married. Additionally, it is thought to bless and bring luck to the couple.
Gold Plated Bangles
Gold-plated bangles are a popular choice among Indian brides. They are a must-have wedding set for women as it holds cultural significance. The bangles are often gifted to the bride by her family on her special day as a symbol of blessings and good fortune. They are available in a wide variety. The bride can choose the ideal design that fits her preferences and complements her bridal attire. Gold-plated bangles are a versatile addition to the bride's jewelry collection because they can be worn after the wedding.
Maang Tikka
Maang Tikka is an exquisite bridal jewelry for weddings in Indian culture. The tikka is traditionally worn at the center of the bride's forehead. It is attached to a chain or string with a pendant or ornament. It is considered the bride's third eye or the location of intuitive and divine vision. This bridal jewelry for weddings is also seen as auspicious and is thought to enhance marital success and fortune. The Maang Tikka can be worn with various hairstyles, such as a bun, braid, or loose open hair.
Silver plated Payal
Silver-plated Payals are beautiful wedding sets for women in India and hold a deep-rooted cultural significance. Also known as anklets, these are comfortable and lightweight to wear.
Payals are a versatile accessory that complements various outfits for Indian brides, including bridal lehenga and saree. They capture the essence of traditional anklets while accentuating the bride's feet, adding to her beauty and charm. With various styles and designs available, payals are a perfect addition to any bridal look, enhancing the overall appeal and elegance of the bride.
Final Thoughts
Choosing the right jewelry is crucial to completing the perfect bridal look. Especially for Indian brides, bridal jewelry is significant as it complements the bridal lehenga. Selecting items that align with the theme of your wedding and your taste is of utmost importance, and for this reason, we offer you a wide range of options. IndiaTrend collection showcases a variety of pieces that will enhance your beauty and add elegance to your overall bridal look. Remember that the right jewelry can make all the difference, so choose wisely and let it complete your bridal ensemble.