Free Express Shipping on Orders above $150.00USD*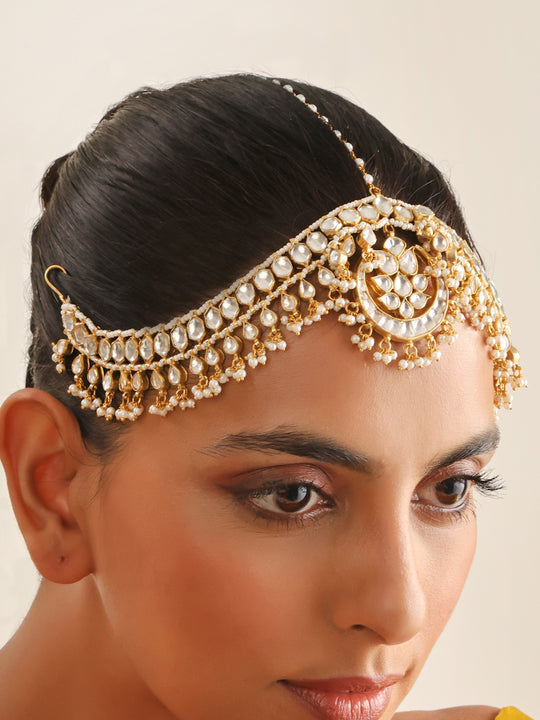 Wearing a decorative headpiece or bejeweled statement piece on your head can truly elevate your bridal appearance. Yet, the task of selecting the ideal piece of jewelry from India might seem quite daunting for a bride-to-be. Fear not, as this guide is here to illuminate the path towards achieving that coveted flawless bride look. Prior to delving in, it's crucial to recognize that the art of choosing your ultimate headpiece hinges upon the careful contemplation of two pivotal factors:
Shape of your face

Size of your forehead
By paying attention to these key factors and harmonizing them with your selected attire, you can effortlessly make a stylish choice. To further simplify your decision-making process, we've curated some of our finest selections from IndiaTrend, taking into account your facial contours and forehead dimensions. Additionally, you have the option to explore headpieces that share similar aesthetics with your ensemble, providing you with even more alternatives to choose from.
Basic Differences Between The Two Head Wear Jewelries 
Women in South Asian culture often wear a traditional headpiece called Matha Patti for special occasions. It makes any outfit look nice and is great for weddings, festivals, or cultural events.
The sheesh phool consists of a central pendant piece that rests on the forehead, along with chains or strings that go around the sides of the head and sometimes even hang down to the hairline. This unique design gives a regal look and enhances the overall beauty of the wearer.
The Maang Tikka is a traditional Indian must-have accessory worn on the forehead. It is typically worn in weddings and other special occasions as a symbol of elegance and beauty. The Maang Tikka consists of a chain or string that is attached to a decorative pendant, which hangs on the middle parting of the hair and rests on the forehead. 
The Maang Tikka comes in various styles, ranging from delicate and subtle designs to bold and statement pieces. You can choose one that matches your personal style and complements your overall look. 
Choosing The Right Headpiece Based On Your Face Shape
When choosing the right headpiece, it is essential to consider your face shape to find a style that complements your features. There are six commonly recognized face shapes: oval, round, square, heart-shaped, diamond, and oblong.
Oval Face
Consider yourself among the fortunate few if you possess an oval face shape. Characterized by its softly curved contours and harmonious proportions, this facial structure serves as an ideal backdrop for a wide array of headpiece styles. The inherent balance of this shape effortlessly complements any type of headpiece – whether it's the intricate elegance of a Maang Tikka or the regal allure of a sheesh patti. Regardless of your personal preference, rest assured that both choices will exude a breathtaking charm when paired with an oval face shape.
Round Face
If you possess a round face shape, opt for a Maang Tikka featuring a vertical design, such as a pendant with a diamond-shaped motif. Embrace headpieces that offer height or volume, as these can cleverly elongate your facial appearance, crafting the illusion of a more oval shape. This artful choice will beautifully lengthen your features. Consider the exquisite Nishtha Maang Tikka, available in both gold and green variants, adorned with simulated polkis and delicately faux studded pearls. This selection promises to be an impeccable match. Alternatively, the Jessica Maang Tikka stands as another alluring option. However, it's advisable to steer clear of a seesh patti, as this style might inadvertently accentuate the roundness of your face, contrary to your desired effect.
Square Face
If you have a square-shaped face, the key lies in adding a touch of gentleness to those angles. Seek out headpieces that effortlessly introduce curves and a sense of softness to your overall appearance. When it comes to jewelry choices for square faces, the Matha Patti stands out as a splendid option, particularly for weddings. Its unique design contributes a roundness that beautifully complements the sharp features of a square face. For an equally fantastic choice, consider the Vaani Sheeshphool headwear – a pick that aligns flawlessly with your style. Another option that harmonizes well with this face shape is the elegant side pendant design known as Passa. If passas are your thing, the Azeen Hair Jhoomer is a remarkable selection worth considering.
Heart-Shaped Face
For heart -shaped faces, balance is essential. Look for headpieces that widen across the forehead while adding fullness around the jawline. Consider a sheesh patti that is broad and a bit gorgeous. That way, it will compliment your face shape. Shivanshi headwear from IndiaTrend would be your perfect partner.
Diamond Face
A diamond-shaped face is characterized by wide cheekbones and a narrow forehead and chin. It resembles the shape of a diamond when viewed from the front. If you possess a diamond face, you can go for both kinds of headpieces. The vertical design of maang tikka helps to elongate the face and create balance by drawing attention to the center of the forehead. Anushka headwear is your kind of Indian jewelry for the head.
Oblong Face
If you have an oblong face shape and are wondering whether you can pull off wearing a maang tikka or seesh patti, let me assure you that you absolutely can! The trick here is to choose the right design that complements your unique facial features.
For those with an oblong face shape, it is ideal to opt for maang tikkas or matha pattis that add width and create the illusion of a shorter face. Look out for designs with horizontal elements or ones that feature a wider central pendant, as these will help balance out the length of your face. Nancy headpiece or Jodha headpiece should be on your list.
Choosing The Right Headpiece Based On Your Forehead Size
Choosing the right headpiece, whether it is a maang tikka or sheesh phool, can enhance your overall look on any special occasion. However, it is important to consider your forehead size when making this decision. 
Small Forehead
For those with a smaller forehead, opting for a delicate maang tikka can be the perfect choice. This elegant piece will add a touch of femininity without overpowering your facial features. Its petite size will complement your forehead and create a balanced look. If you have a petite forehead, you can go for Zara maang tikka or Anayra maang tikka.
Big Forehead
If you have a larger forehead, a bold seesh patti might be more suitable for you. This statement headpiece spans across the hairline, drawing attention away from the forehead while adding drama and glamor to your appearance. Considering your forehead size, go for Pragya headwear or Shivika Seeshphool.
It is also worth noting that there are variations in both maang tikka and seesh patti designs that can cater to different forehead sizes. For example, if you have an average-sized forehead, you could go for a medium-sized maang tikka like Shayana maang tikka or opt for a sheesh phool with moderate intricacy like Kusha Seeshphool or Megha Seeshphool.
To Conclude
Whether you choose a matha patti or a statement maang tikka for your bridal style ultimately depends on your personal taste and the overall look you want to achieve. Both options have their own unique charm and can add an elegant touch to your wedding ensemble. If you are not too much into the matha pattis, you can also choose sheesh phool which looks extraordinary. Consider factors such as the shape of your face, the design of your outfit, and the theme of your wedding when making your decision. 
Do not be afraid to experiment and try on different styles to see which one headpiece suits you best on "The Day". Ultimately, what matters is that you feel beautiful and confident on your special day. So go ahead, embrace the tradition and make a stunning statement with the latest collection of Indian jewelry online from IndiaTrends.