Free Express Shipping on Orders above $150.00USD*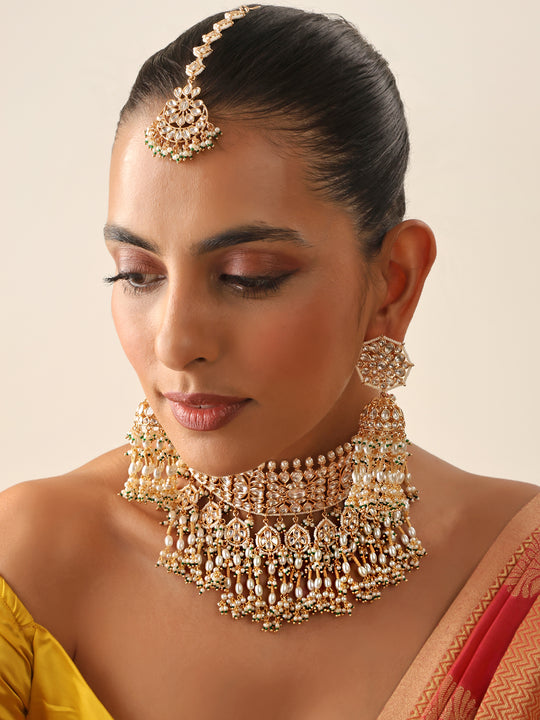 Renowned British fashion designer Alexander Mc. Queen had rightly quoted - "Clothes and jewelry should be startling, individual." Going by this thought further, it would be apt to say that our get-up would be incomplete without complementing it with the right jewelry. And the little trinket that grabs the spotlight in our jewelry box is - 'The Necklace.' Choosing the right neckpiece for an occasion could be tricky and sometimes daunting. 
So if you are struggling to find a bedazzling
necklace set for women
that could elevate your look, don't worry. We have got you covered with the perfect statement pieces for any event.
Types of Necklaces available
Necklaces are a timeless accessory that can elevate any outfit. With so many options available, it can be overwhelming to choose the perfect one for each occasion. Here are some types of necklaces you can consider:
Choker:

A choker sits high on the neck and is perfect for formal occasions or adding a touch of sophistication to your everyday look. Indian

choker necklaces

are often adorned with precious gems, intricate designs and traditional motifs.
Pendant:

A pendant necklace features a single charm or gemstone that hangs from a chain and adds personality to your outfit.
Layered necklace set:

For those who want to make an impact,

layered necklace set

,

feature bold designs and vibrant colors that catch attention.
Pearl

: Classic and elegant, pearl necklaces range from simple strands to intricate designs featuring different sizes and colors of pearls.
Whatever type of necklace you choose, ensure it complements your personal style and the occasion you're dressing up for
When choosing necklaces, what factors should be considered?
Numerous factors would influence the choice of the right necklace.
Occasion:
A different kind of jewelry is needed for every occasion, whether it's a wedding, an office meeting, a casual girl's outing, a soiree, or a date with your loved ones. A wedding or festival would require a more elaborate, gem/stone studded or choker look, while an office meeting would require a nonchalant, subdued piece such as a layered necklace with a single pearl pendant, or an opera style neckpiece.
Attire:
An extravagant diamond or gold necklace set would add to the grandeur of an outfit if we were all dressed up for a wedding reception. However, an evening gown or sheath dress would require a sophisticated but subtle necklet to complement its glitz and panache.
Gems/ Metals:
In spite of how popular it may be, even the necklace's make has a profound effect on your look. In short, your beauties are meticulously crafted to flatter your appearance if carried smartly. While a gold or kundan choker would stand out in an office meeting, a simple layered necklace would stun your sangeet look.
Tips for choosing the right length and design
When it comes to choosing the right length and design of necklace, there are a few tips to keep in mind. 
First, consider your neckline and choose a necklace that complements it. For example, if you're wearing a V-neck top or dress, opt for a shorter necklace that sits above the neckline. If you're wearing a high-necked top or dress, choose a layered necklace set that falls below the neckline.
Another important factor to consider is your body shape. If you have a petite frame, avoid chunky necklaces and opt for delicate designs instead. Similarly, if you have broad shoulders or a larger bust, avoid choker-style necklaces as they can make your upper body appear more bulky.
Finally, think about the occasion and style of outfit you'll be wearing with the necklace. A simple pendant on a chain is perfect for everyday wear and casual outfits while layered necklace sets are great for dressing up an evening gown or adding some pizzazz to an otherwise plain outfit.
Overall, choosing the right length and design of necklace requires careful consideration of factors such as neckline, body shape and occasion but ultimately comes down to personal preference and what makes you feel confident and beautiful!
Conclusion
Choosing the perfect necklace set for women for every occasion doesn't have to be a difficult task.
IndiaTrend offers an extensive collection of necklaces that are perfect for every occasion. Whether you're looking for something to wear to a wedding or a party, or you want to add a touch of glamor to your everyday look, India Trend have the perfect piece of jewelry for you.