Free Express Shipping on Orders above $150.00USD*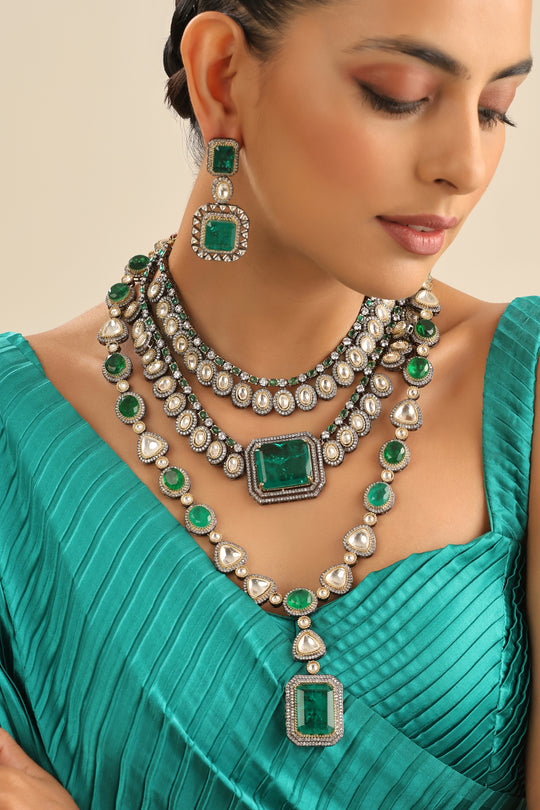 Indian culture is renowned for its lavish celebrations and vivacious traditions when it comes to weddings. The bride's gorgeous bridal jewelry, which highlights her attractiveness and matches her outfit, is the focal point of these ceremonies. These finely created items are now more accessible than ever to consumers because of the growth of internet marketplaces that provide a wide selection of Indian bridal jewelry sets in the digital era.
About Indian bridal jewelry sets
Indian weddings lay a unique emphasis on bridal jewelry. It adds style to the bride's outfit and has emotional and cultural importance. In Indian bridal jewelry sets, a necklace, earrings, bangles, rings, and a maang tikka (forehead adornment) are common inclusions. These sets frequently have elaborate designs with expensive metals, jewels, and motifs.
A Snippet of the Past:
A monument to India's rich cultural past is the Indiatrend Jewelry Shop, where jewelry has long maintained a unique role. This jewelry store offers more than just ornaments; it takes customers on a trip through history and tradition. The long and varied history of jewelry -making in India reflects the nation's different cultures, faiths, and geographical regions. Indiatrend pays homage to this past by choosing items that evoke the spirit of previous eras while blending nicely with the present.
Beyond Compare Craftsmanship
Indiatrend Jewelry Shop's dedication to unmatched craftsmanship is at the core of its success. Every item is painstakingly created by talented artists who have passed down their craft through the centuries. Every design exhibits excellent craftsmanship and meticulous details, demonstrating a commitment to perfection that has lasted the test of time.

Factors To Consider When Choosing Bridal Jewelry:
Every little detail counts on your wedding day because it is such a memorable occasion, especially when choosing the ideal bridal jewelry. Indiatrend Jewelry Shop recognizes the importance of this occasion and provides a beguiling selection of alternatives that expertly combine traditional and modern design. Here are the crucial elements to take into account to make sure your online Indian artificial jewelry compliments your outfit, enhances your beauty, and reflects your individual style:
Bridal Attire:

Your wedding attire should coordinate with your bridal jewelry. Indiatrend Jewelry has items that work well with a wide variety of designs and themes, whether you're wearing a traditional saree, a lehenga with a complex pattern, or a contemporary fusion dress.

Neckline:

The style of necklace that will best complete your look depends on the neckline of your wedding attire. You can find the ideal necklace for your neckline in Indiatrend Jewelry's collection, which features a range of necklace designs, from complicated chokers to beautiful pendants.

Individual Comfort:

On your special day, comfort is essential. Indiatrend Jewelry is aware of the demand for jewelry that sparkles while remaining cozy to wear throughout the festivities. Their collection has elegant yet lightweight pieces that let you move freely.

Enhancing Your hairdo:

Some jewelry items, such as hairpins and Maang tikka, are designed to go well with your hairdo. These accessories are available in a beautiful range from Indiatrend Jewelry, guaranteeing that they perfectly complement your selected hairstyle.

Experience the Indiatrend Magic:

Research Indiatrend Jewelry's options online or go to their store to try on your favorite pieces in order to make the best choice. Their jewelry advisers can help you choose pieces that will make you shine on your important day. Feel the craftsmanship, see the brilliance, and do so.

Gemstones:

The gemstones you select can give your bridal jewelry a special meaning and allure. Indiatrend Jewelry's collection offers a variety of excellent selections, whether you are drawn to the classic beauty of diamonds or the flamboyant attraction of colored gemstones.

Metal Mastery:

Your online Indian artificial jewelry's metal selection is crucial. Indiatrend Jewelry provides items that are painstakingly fashioned in a number of metals, whether you prefer the timeless shine of gold, the sleek attractiveness of platinum, or the romantic blush of rose gold.
Bridal jewelry collection:
The Victorian Collection: The rich history and regal legacy of India serve as the inspiration for this collection. Expect complex patterns, vintage themes, and opulent objects befitting royalty. These items, which range from ornate Maang tikkas to intricate necklaces, perfectly encapsulate the grandeur of tradition.
Modern Elegance Collection: The Modern Elegance Collection is for those who enjoy modern design elements, such as clean lines, minimalist patterns, and geometric shapes. This jewelry line may have items that deftly combine timeless appeal with contemporary sensibility.
The Diya Collection: The Diya Collection from Indiatrend Jewelry Shop is proof that jewelry may have rich symbolism and purpose in addition to being aesthetically pleasing. You are encouraged to embrace the light inside you as you peruse the collection and express it via the craftsmanship and elegance of these wonderful pieces. The Diya Collection, which pays homage to the illumination that enhances our journey, will illuminate your life with its bright beauty and spiritual meaning.
The Aaina Collection: Jewelry may reflect our essence, taste, and spirit, as evidenced by the Indiatrend Jewelry Shop's Aaina Collection. You are encouraged to consider your own beauty and uniqueness as you peruse this collection and to adorn yourself with accessories that reflect that brilliance. A tribute to the reflection of grace and elegance, the Aaina Collection's enchanting beauty and creativity will illuminate your life.
The Bohemian Bazaar: The Bohemian Chic Collection may feature jewelry with unique materials, tassels, and free- spirited designs for a more unorthodox and casual look. These items can be ideal for creating comfortable yet fashionable outfits.
The Jaipur Collection: It is a voyage into the vibrant world of Jaipur's creativity and culture. You are encouraged to embrace the magnificence of Rajasthani history as you peruse the selection and decorate yourself with items that capture the allure of the Pink City. Make a statement in your life with the regal allure and classic beauty of the Jaipur Collection, which pays homage to jewelry's artistic craftsmanship and the culture it honors.
The Noor Collection: The Indiatrend Jewelry Shop's Noor Collection is more than simply jewelry; it's a celebration of life, light, and the craft of embellishment. You are encouraged to peruse the collection to find jewelry that speaks to your soul, accentuates your elegance, and becomes a treasured part of your story. A tribute to the everlasting fascination of exquisite jewelry, the Noor Collection's bright brilliance will illuminate your life.
Conclusion
Bridal jewelry is a brilliant thread connecting tradition, culture, beauty, and emotion in the colorful tapestry of Indian weddings. Online platforms have transformed how we interact with this enthralling world, opening it up to brides and enthusiasts everywhere, even in the United States. The quest to find the ideal Indian bridal jewelry set mixes contemporary convenience with classic grace.
Remember as you begin your virtual study that each jewelry item is more than just an ornament; it carries ancestors' stories, symbols, and sentiments. The Maang tikka on your forehead stands for intuition and unity; it is more than just a piece of metal and a gemstone. Your beautiful wrist jewelry is more than just decoration; it represents blessings and prosperity.
May you succeed in your digital search for the ideal Indian bridal jewelry sets online that speaks to your spirit and exude the grandeur of a long-standing tradition that has been updated for the present.