Free Express Shipping on Orders above $150.00USD*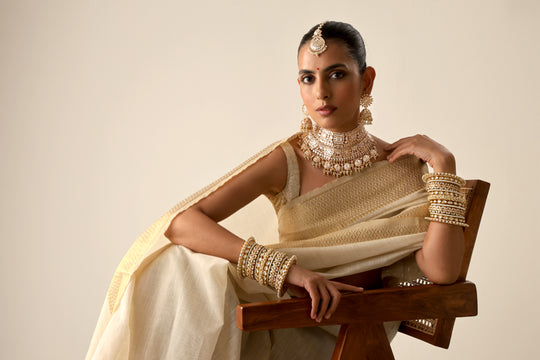 With the onset of spring, our wardrobes have migrated from the winter ensemble to the light, easy breezy outfits all set to beat the heat. But why go light on yourself when you can accentuate that summer look by donning bibelots like statement earrings, neck-pieces, bracelets, etc., that would add grace and charm to your persona, making your presence felt at the office, social gatherings, or soirees? Since immemorial, jewelry has been important in accessorizing and adding that glitz and sparkle to make you feel unique. Just like our ever-evolving fashion industry, the jewelry trends of 2023 are causing ripples amongst consumers because of the distinctive craftsmanship, dopamine colors, clever use of gems, style quotient, and versatility. 
"You are what you wear" would be an understatement if you don't flaunt, flash, and go for it. The spring jewelry trends 2023 outline that it's not always about being bold, huge, and extravagant, but even elegance and minimalism could speak volumes when donned the right way. We bring across the jewelry trends to look out for this season.
Polki galore:
This handcrafted uncut diamond has a history dating from the Mughal era. Its regality is truly unmatched. While it is a favorite stone used to adorn brides with its elaborate and intricate design, this royal gem has paved the way for more contemporary and modern jewelry concepts. Its presence is felt in earrings, bracelets, and neck pieces which one could team with western dresses, cord sets, and the like to add the much-required bling and style. As a standalone gem, it is royalty at its best. Still, nowadays, designers have become more experimental by pairing it with pearls, diamonds, emeralds, gold, etc., to highlight the stone and make it more multifaceted in terms of usage and style.  
Dopamine cravings:
Gone are the days when jewelry would comprise only colors like red rubies, green emeralds, or blue sapphires. With consumers ready to foray into articles exuding various colors like fuchsia, turquoise, etc., the jewelry market has seen a steady rise in demand for pieces made of distinctive hues. They are not shying from contrasting the attire with vibrant-colored trinkets. So while a pastel-colored lehenga could be worn with the
bridal jewelry
of an elaborate emerald set, our summer-ready bubblegum-colored jumpsuit could be beautifully paired with turquoise drop earrings adding to the much-required oomph to the attire. 
Pearly fantasies :
If any gem in the jewelry dictionary combines sophistication, charm, and a go-for-it-girl look, our effervescent pearl would fit the bill. Moreover, pearls have this uncanny quality of adding soberness and elegance to an outfit if worn as a plain necklace with matching earrings. Still, on the contrary, when these beauties are amalgamated with diamonds, gold, polki, kundans, etc., they work like magic to transform your look, from the office goer to the most stunning bride or bridesmaid. Furthermore, when added to the much toned-down layered gold necklace sets or even bracelets, they can effortlessly give you that "pretty girl-next-door" look. 
Oxidized desires:
Oxidized jewelry/tribal jewelry has recently gained prominence in the main field jewelry market due to its intricate quality and the beauty it renders to those wearing it on sarees, dresses, or kurtas. Earlier on, it would be worn only at festivals like
Navratri
or
Durga puja
. Still, gradually, it caught the eyes of designers who creatively wove these into traditional and Western attires, so much so that now they have become quite a rage. They have paved their way into every piece of jewelry, be it earrings, amulets, anklets, rings, nose pins, etc. 
Minimalist wanderer:
Minimalism is the order of the day. Besides the bridal or festive look, consumers generally prefer light weighted and elegant
bridal jewelry
pieces in their daily affairs. Trinkets that could seamlessly merge into traditional and Western attire would be a go-to option for Gen Z. Even office goers and professionals would vouch for a much more delicate and dainty piece to team it with their outfit and slay the look
.
Designers are drawing inspiration from nature and antique pieces and blending metals to bring novelty to this area. IndiaTrend is a one-stop destination for all your jewelry needs. They offer an exclusive collection of the latest and trendy jewelry perfect for any occasion. So, why wait? This spring, go and indulge in bringing out the fashionista in you!